Bertrand Ravoux
From the School of Légèreté in France, Bertrand Ravoux, joined us to teach the Teachers' Courses and the Advanced Courses.
Bertrand is one of Philippe Karl's top instructors. His enthusiastic teaching style combined with a vast knowledge base consummate in profoundly skillfully taught lessons.
About Bertrand...
riding instructor since 1997.
trained students of all levels and ages in dressage, show jumping and eventing
successfully competed at national level eventing competitions
initiated to the Baucher method by Patrice Franchet d'Espèrey, equerry of the Cadre Noir of Saumur
manager of the documentation centre of the National School for Horse Riding
worked alongside Philippe Karl as a trainee for a year
licensed riding teacher of the School of Légèreté (level IV diploma).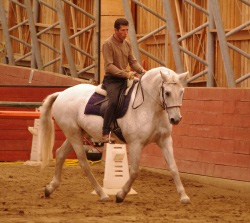 visit Bertrand's website www.bertrandravoux-legerete.com

Photo credits: ForTheHorse

Copyright

© 2016 ForTheHorse.com all rights reserved

Intellectual Property Pictures and text on the ForTheHorse website are protected by law and are not royalty free.