"THANK YOU FOR THE GIFT OF SUNNY!!!"
From cantankerous, unwanted, mischievous pony, to partner of the world's youngest Parelli Level 2 rider, to a kind and patient teacher, this is the story of Sunny…
An individual dear to our hearts has passed away recently, his name was Sunny. Sunny was that one of a kind pony that touched many peoples' lives. He could do anything, including get out of stalls on his own and take his buddy Dasher on a nighttime escapade around the neighborhood looking for sweet morsels of grass. He would always return home though, at around midnight!!
Sunny came into our lives in 1996 when his owner said that he could not be ridden because he would take off and buck off his poor, unfortunate young rider. His big bold spots and mischievous look on his face told me that he could, one day, be a good pony for my three daughters.
I set to work, problem solving our not-so-sweet Sunny. He was given a loose rein, or no rein at all, and I taught my eldest daughter, Robyn, how to use her legs on the front of his chest to slow him down and stop him. Sunny did indeed, as we were told, root down on his riders hands, gallop off and buck. He tried it several times, but with our approach he did not feel trapped by the hand anymore and gradually decided that is was more to his benefit to get to know his rider.
He got so close to his rider, Robyn at the time, that the pair became the youngest Parelli Level 2 in the world (a title they still hold to this day)! The two of them would do their favourite, lead changes bareback and bridleless in a huge open field, with smiles on their faces and a bite of grass as a reward.
Total innocent freedom!
Sunny became famous and was featured in a CBC documentary aired on national TV, alongside Robert Redford of The Horse Whisperer! ForTheHorse became the Canadian Horse Whisperer!! He was the star of Pat Parelli's Ranch in Pagosa Springs, CO, showing off in demonstrations, he loved the applause.
Isla, my middle daughter, and Sunny spent many hours playing together. He trusted his partners and went the extra mile for his rider now.
Clee, my youngest daughter, and Sunny wowed spectators at many dressage and jumping shows. He could do it all, with his heart and soul.
Isla and Clee would gallop bareback and bridleless when they brought our herd in from pasture in the evening. Sunny carefully alerted his rider of a deer up ahead, considering his partner always.
When my children grew older, I began to search for another family to love and cherish Sunny as much as we did. I knew that he had many more years of giving to do and that he would feel fulfilled if he could continue his job helping children. In 2006, I found a beautiful, young family with two girls, Alicia and Julia.
It always makes me happy to know about the horses that I have sent out into society, just to know how they are doing. I have rescued many horses over the last 22 years, but none like Sunny. Sunny was a one of a kind pony. He is a friend and partner who will be remembered forever!
This note came into my inbox:
"With great sadness, I wanted to let you know that we lost our dear, sweet Sunny earlier this month😢. He was the most amazing pony we could have ever known, and I thank you so much for letting him into our lives. Both of my girls, Alicia(now 13) and Julia(11), were raised to love horses by him. He was so kind and patient with them and they are heartbroken that he is gone. He will be dearly missed, but we are thankful for the hoofprints he left in our hearts❤
Thank you for the gift of Sunny!!!"
Kathy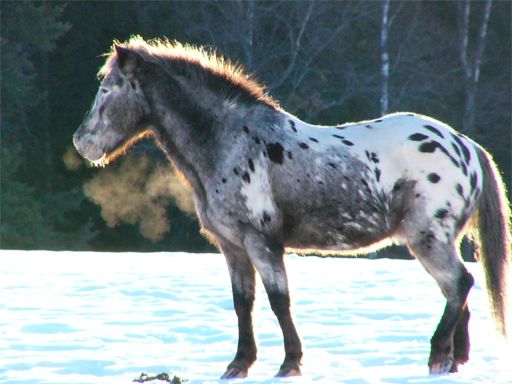 ForTheHorse: 7748 Skimikin Road, Chase, BC, Canada

Photo credits: ForTheHorse and Candice Camille

Copyright

© 2016 ForTheHorse.com all rights reserved

Intellectual Property Pictures and text on the ForTheHorse website are protected by law and are not royalty free.