THE BLUE HORSE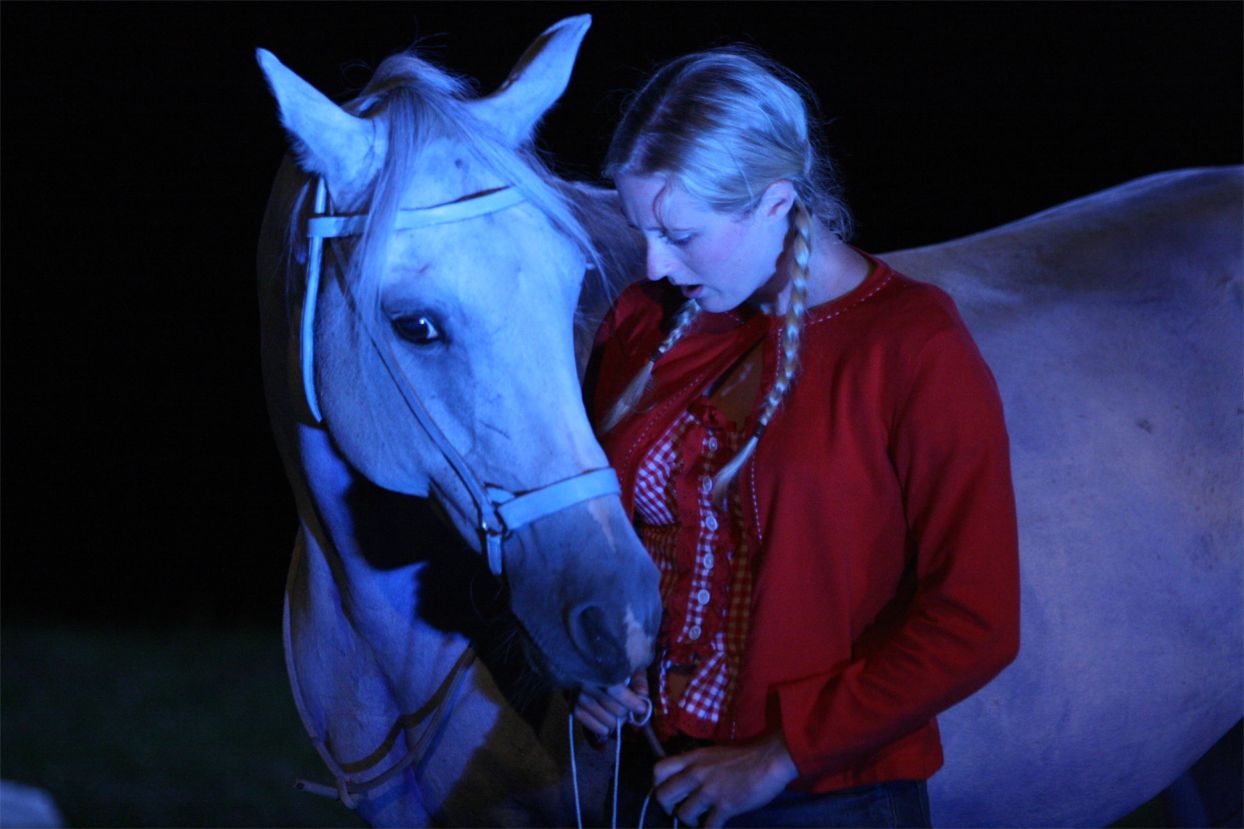 Summer 2007, Caravan Farm Theatre, Armstrong, BC
Gem as the Blue Horse
Horse Choreography by Christine Adderson
Horse Handlers - Isla and Clee Adderson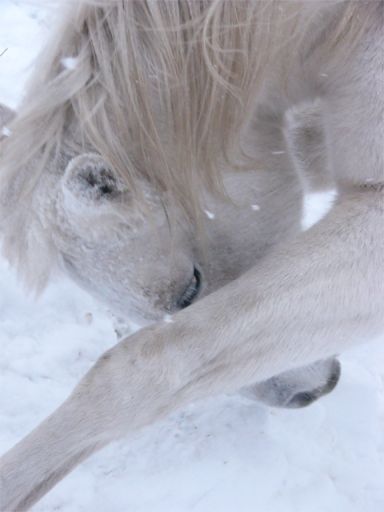 Gem is a very special mare who has been under our care for 9 years. When Estelle Shook, Artistic Director for Caravan Farm Theatre, approached me to ask me if I had a horse that could dance at liberty and was comfortable on stage, who was also white, I knew that Gem was the one! Gem's liberty training is very extensive with the rear, bow, paw, trot and canter circles, back up, and sideways as well as many other tricks in her repertoire. She is also extensively trained under saddle in dressage and Connected Riding, and has very beautiful fluid movement.
Every night Gem was painted blue with Tempra paint (non toxic children's paint). Gem's patience was unmatched by any animal I have seen. She endured long rehearsals and taught the actors how to communicate with her.
Gem, and her horse handler, Isla performed like pros handling every curve that came their way for over 30 performances!
It is not uncommon for people to drop by our farm and say, "This is the home of the Blue Horse, she was so wonderful!"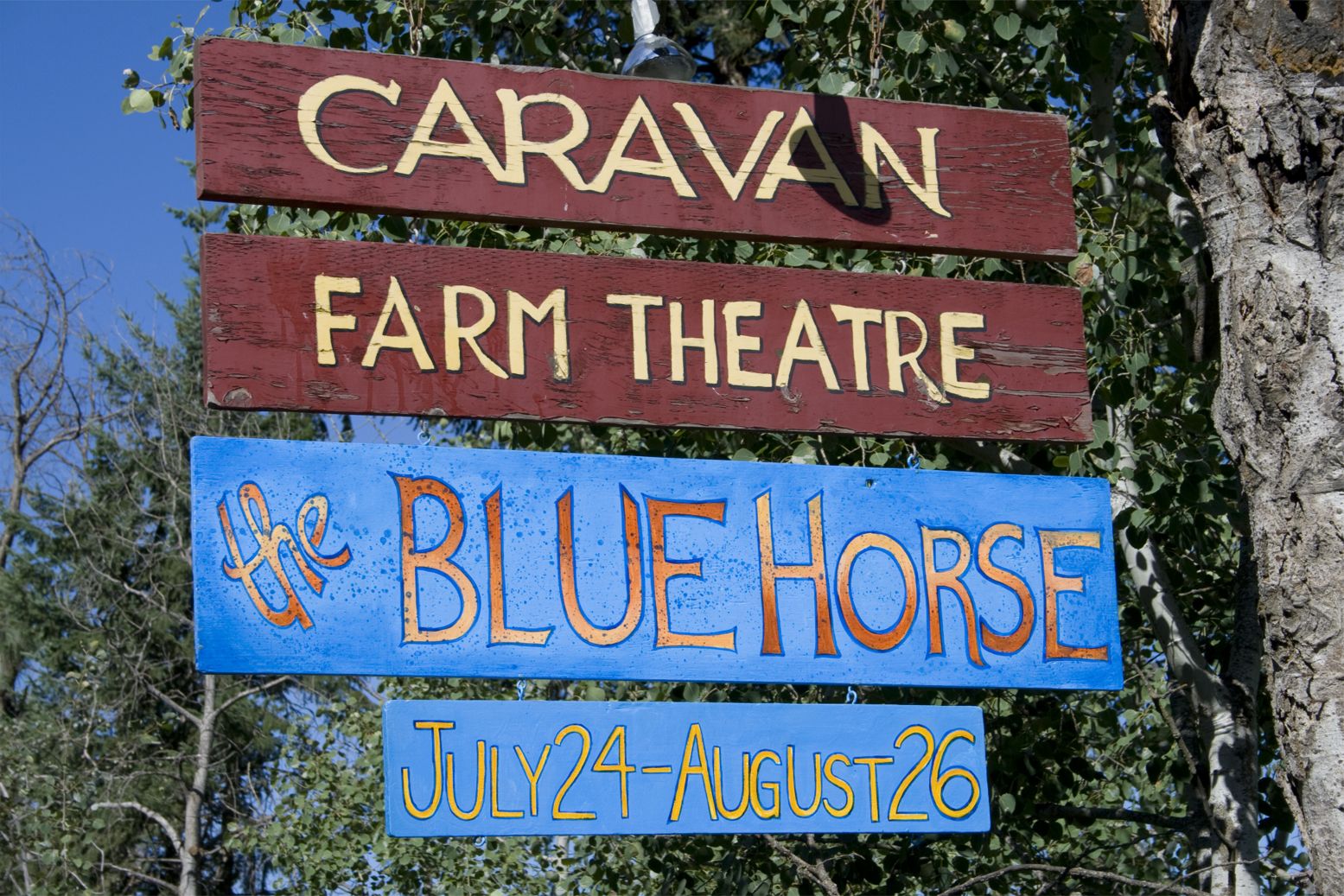 Hailed as a national treasure, Caravan Farm Theatre is one of Canada's premiere professional outdoor theatre companies, and has been entertaining audiences young and old, from near and far, since 1978.
There is no theatre building - just the great outdoors. Productions have been staged in nearly every corner of the farm - in a field, in the pines, in the barn or the riding ring. The shows range from classics like Shakespeare and Brecht, original works like Horseplay and Cowboy King. Annual productions include a Fall shadow play, a Winter one-act sleigh ride show, and in Summer, a full length musical.
Caravan's artistic mission is to create meaningful, popular theatre for a broad and diverse family audience.

Reviews
The Armstrong Advertiser - Peter Critchley
"Any review of The Blue Horse would be incomplete without noting the contribution of Christine Adderson of DanceEquus and Gem, the startlingly intelligent 14 year old mare cast as the blue horse. One of the most magical moments of the show is when Gem first appears on the crest of a hill. It elicited a collective gasp from the audience."

NORTH of 50 - Jan Webster
"This Summer's small but perfectly formed cast of seven actors from both the West and East coasts have to budge up a little for Gem to take her share of the title role."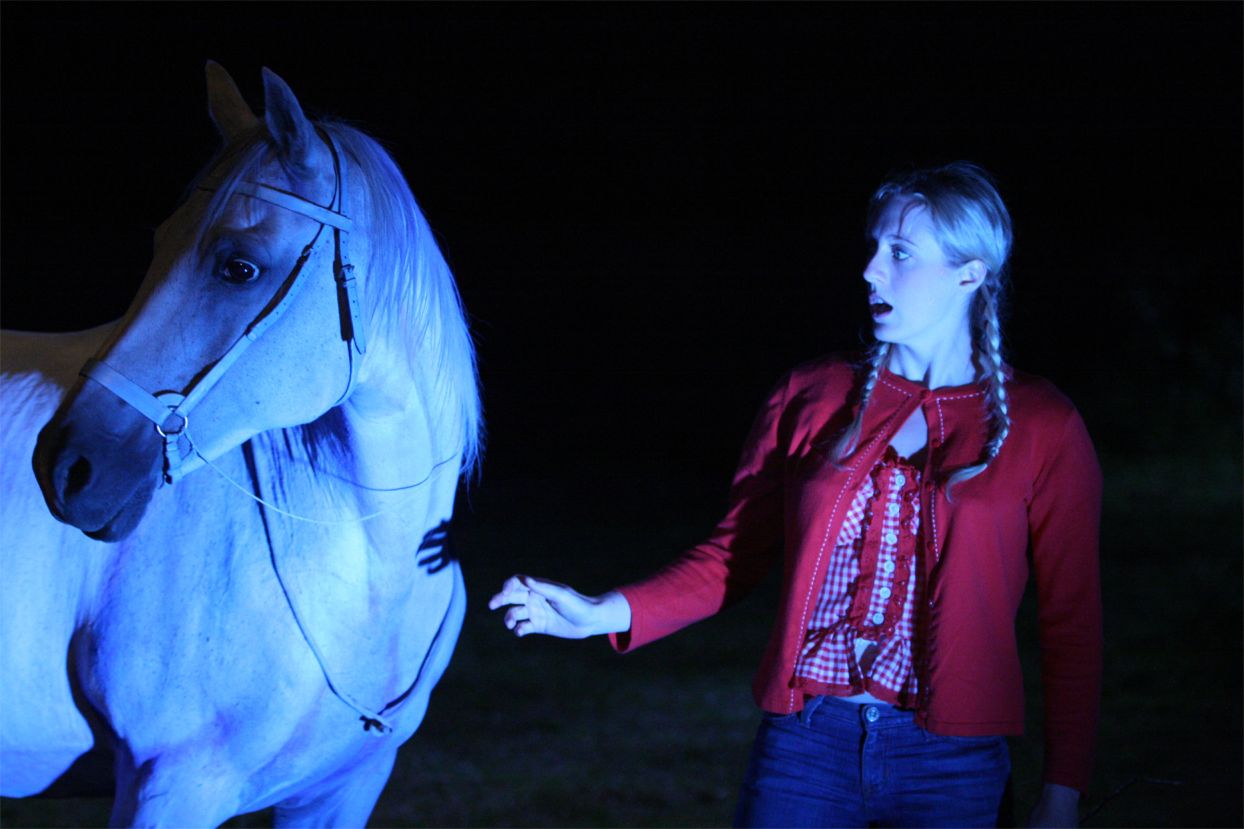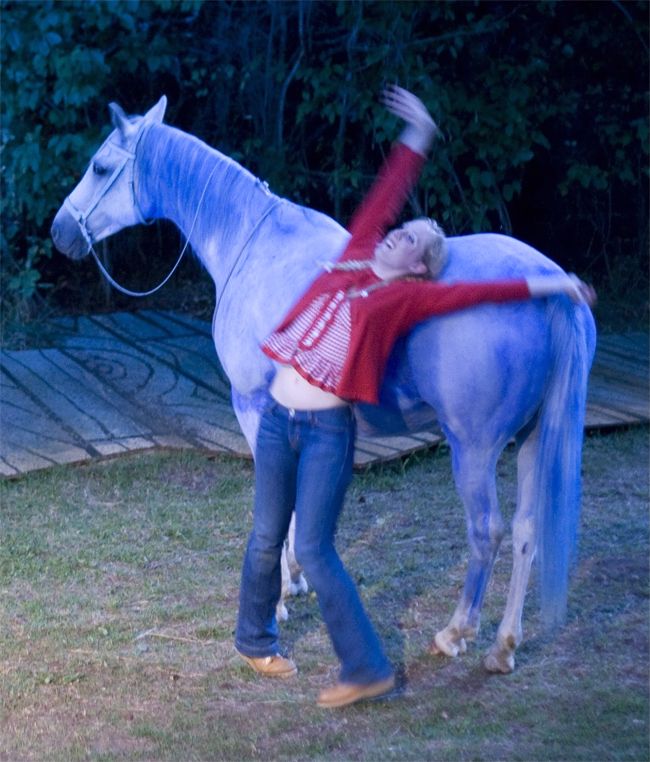 The Morning Star - Kristin Froneman
"As Sooz tries to figure out who The Man is, while escaping from the grasp of her family, an even more mysterious blue horse - to gasps from the audience - appears in the woods.
"I don't want to give too much away, but seeing Gem (the actual horse) and Sooz's gorgeously choreographed sequence in Act Two is worth the admission alone."
Vancouver Courier
"Without doubt, though, the appearance of a real, blue horse and the interaction of gentle, teenaged mare Gem and Sasa Brown is where the show's magic lives...She [Sasa Brown] worked with Gem and Christine Adderson...for a week before, and then throughout the rehearsal period. The payoff is fabulous. Brown, as Sooz, is enraptured with the blue horse; she caresses it, dips under its belly, draws it slowly backwards by the tail, and lays herself in ecstasy along its flanks. And then rides it. All this and a full Armstong moon peeking through the mighty pines. I suspect that Peter Anderson dreamed the whole thing up just for these moments. Who could blame him?"

Behind the Scenes
Isla Adderson and Gem